Trophy Whitetail Deer Hunting in Texas
Still Waters Ranch offers you the opportunity to take a GREAT TROPHY at a GREAT PRICE. Still Waters Ranch has a very high concentration of trophy animals. In 2019, we had the first year of commercial hunting on the property after none for the previous 20 + years and have continuously stocked the ranch with trophy class genetics. We provide first class hunting blinds for both bow and rifle hunters as well and set the stage for a great opportunity by breeding, producing and stocking outstanding trophy animals. You will have the experience to hunt without a crowd since only your group of up to five hunters will normally have the exclusive use while hunting on our ranch. This is not a guaranteed hunt but you will have an excellent chance to take a magnificent trophy of your liking and probably see several bucks each day.
Reserve your hunt for 2022-23 season or future date now for your opportunity to take an outstanding trophy by calling(210-722-4472) or emailing(whitetailsandwagyu@gmail.com) now. Hunts are scheduled from Thursday to Sunday starting on the first Saturday in November until the last weekend in December and several 2022-23 hunts have already been booked--so call now to reserve your hunt. We expect to be sold out again in 2023-24.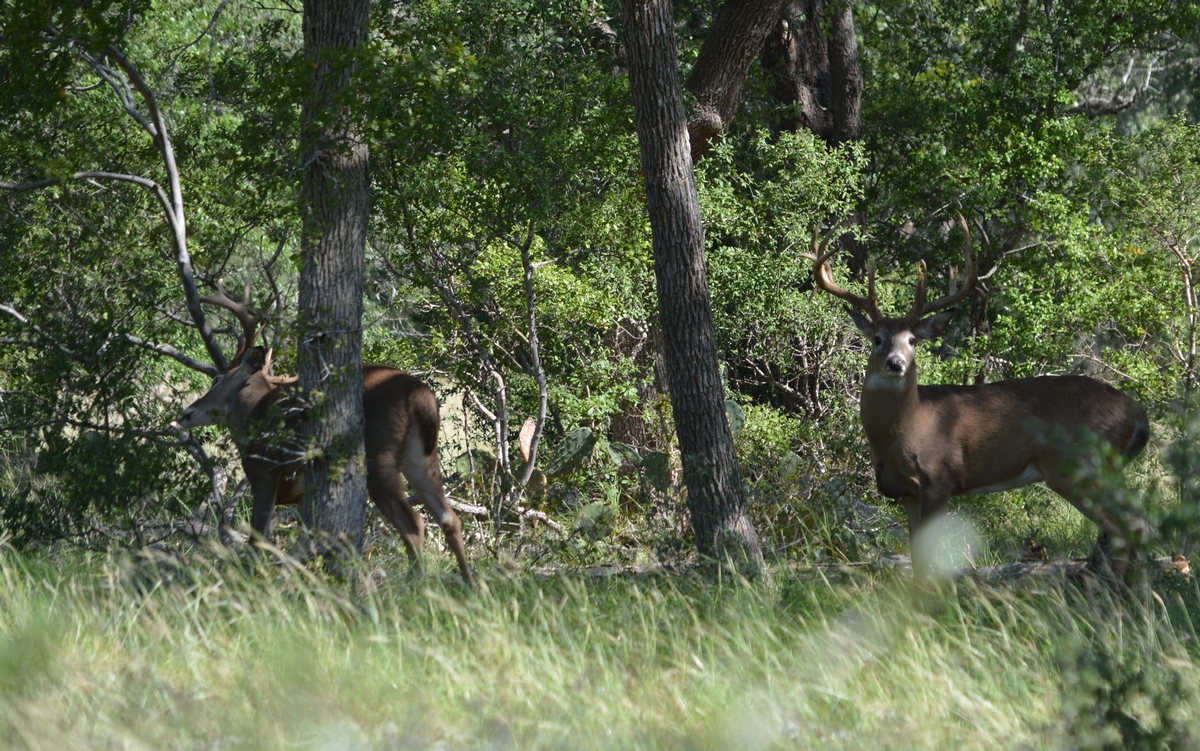 Hunting Facilities and Deer Survey
A 2022 game survey revealed a large buck population with more than 20 bucks in excess of 200" SCI with several over 250" SCI. A few bucks estimated around or over 300" SCI were spotted. Most hunters successfully use the spot and stalk technique due to the large number of animals and forested terrain. Many single and double blinds are also strategically located throughout the ranch. All ranch facilities are available to the hunting party including the picnic pavilion with fireplace perfect for after hunt gatherings. Also, the billiard building with card table, billiards, 65"DirecTVand bar area are a great place to relive the day's activities and events. You may also want to enjoy the pool and hot tub to rest, relax, and relive your hunt while visiting with fellow hunters. A game of cornhole, ping pong or horseshoes is possible if you are not too worn out. Or you may just want to relax in front of the fireplace glowing fire at the picnic pavilion.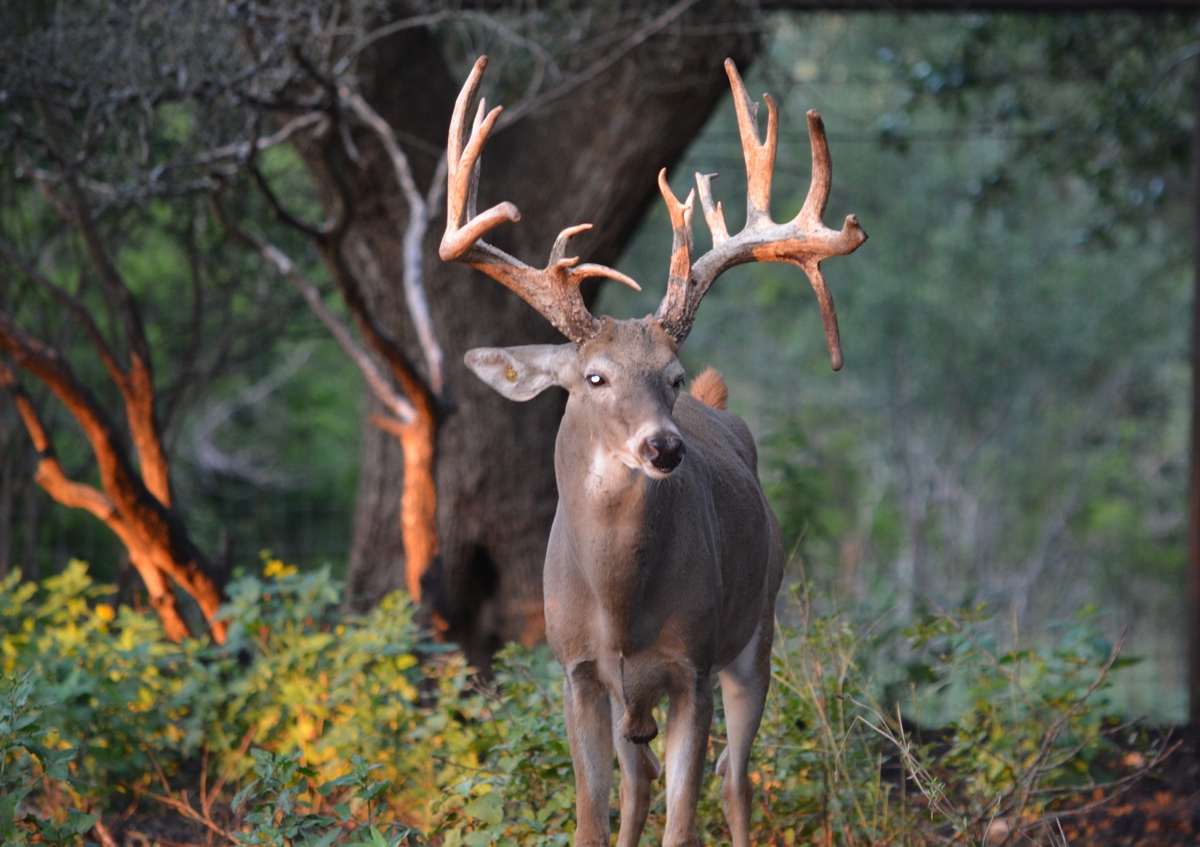 Also Included in Your Hunt
You or your group will have exclusive use of the Hunter's Lodge (seen on www.VRBO.com/1292442) with kitchen facilities, 4 bedrooms, 2 baths with showers and a small common area. All other ranch facilities will also be reserved for the exclusive use of the hunting party. Additional non hunting guests are welcome to accompany hunters for no housing charge and may use all the additional ranch facilities as well.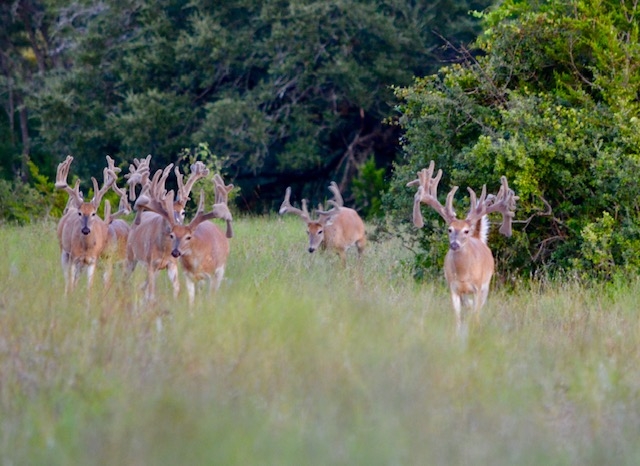 3 Day/2 Night Hunt Package: $3000
This is a three-day, two-night hunt for a buck up to 150" SCI priced at $3000. Hunters will stay at the hunters lodge, a four-bedroom ranch house on the property. All hunts will start with arrival on Friday and end on Sunday unless otherwise agreed. A Sunday hunt with departure on Monday is included for bucks over 150"SCI. All meals and guide service are included.
This $3000 hunt package entitles you to take a 150" SCI buck. You may take any bigger buck over two years of age and pay an additional trophy fee according to the following schedule using the SCI score or the Boone and Crocket Score- whichever is a higher price:
SCI Score B&C Score Trophy Fee Hunt Fee Total Price*
Up to 150 Up to 130 $0 $3000 $3000
151 to 160 131 to140 $2500 $3000 $5500
161 to 170 141 to 150 $3500 $3000 $6500
171 to 180 151 to 160 $4500 $3000 $7500
181 to 190 161 to 170 $5500 $3000 $8500
191 to 200 171 to 180 $6500 $3000 $9500
201 to 210 181 to 190 $7500 $3000 $10500
211 to 220 191 to 200 $8500 $3000 $11500
221 to 230 201 to 205 $9500 $3000 $12500
231 to 240 206 to 210 $10500 $3000 $13500
241 to 250 211 to 215 $11500 $3000 $14500
251 to 260 216 to 220 $12500 $3000 $15500
over 260 over 220 $200/inch $15500 $15500+$200/inch
The $3000 Hunt Fee is due 14 days prior to your arrival at the ranch. The Trophy Fee for deer over 150" SCI is due at the end of your hunt before departing Still Waters Ranch. * A $1000 Drop Tine Fee well be added to the above Total Price for each drop tine over 3 inches on your Trophy deer. Specific bucks may be priced higher because of look or size and will be identified prior to your hunt. The price will be the higher Total Price of the SCI Score or the B&C Score.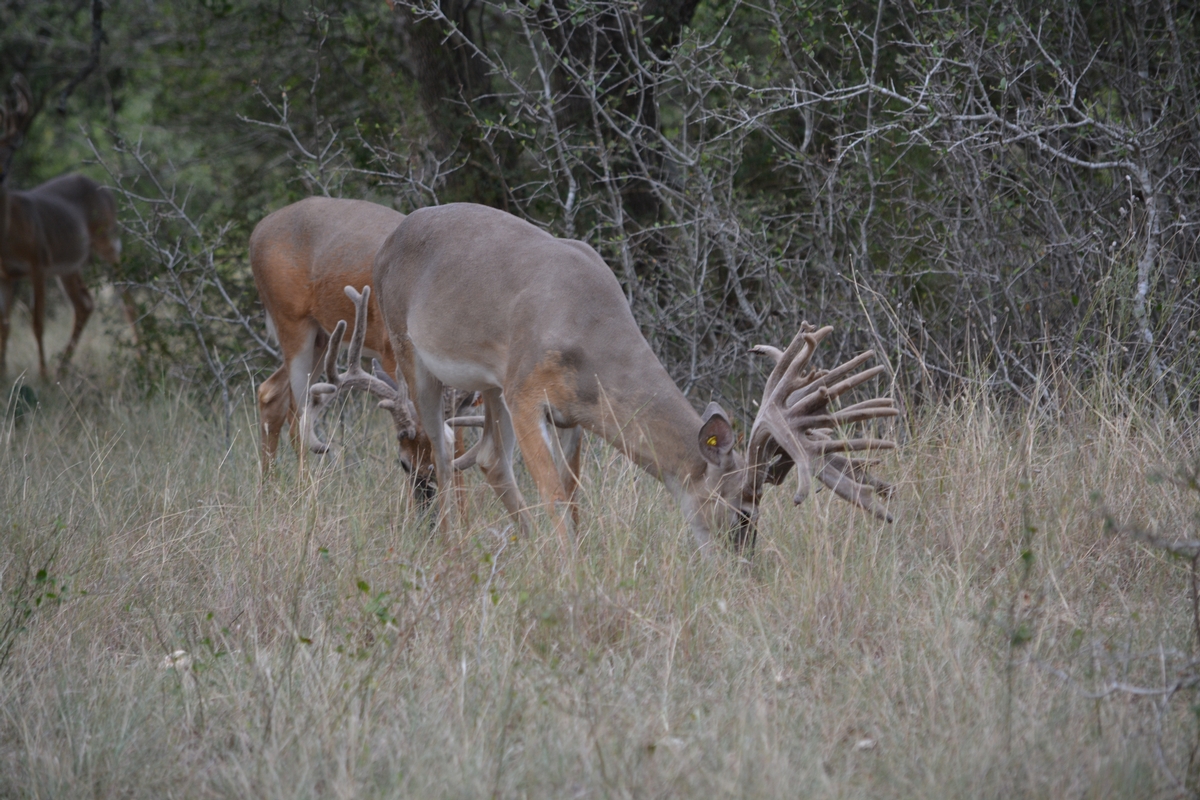 Hunting Add-Ons
For an additional fee, the following may be arranged:
Game Processing and Transportation of your animal to Taxidermist/Meat Processor
Nights at the Hunt Lodge with Family and other Non-hunting Guests
Transportation to/from San Antonio International Airport
Fees and Schedule:
A deposit of $1500 is required to secure your reservation. The total Hunt Fee($3000) is due 14 days prior to the start of your hunt. Cancellations are subject to a cancellation fee equal to the Hunt Fee. Still Waters Ranch accepts Cash, Checks, PayPal, Venmo, and all Major Credit Cards. Gratuities are at the discretion of the guest if the service earns it.